EWUS.de - Erik Wegners Useful Software
Vielen Dank, dass Sie sich auf meiner Internetseite umsehen. Hier erfahren Sie Details zu meiner Person.
Beruflich
Ich bin hauptberuflich als Product Owner, Projektmanager oder Softwareentwickler tätig.
Professional Scrum Product Owner I

Microsoft Certified: Azure Fundamentals

Google Cloud Certified:

MCPD on Microsoft SharePoint 2010

PRO: Designing and Developing Microsoft SharePoint 2010 Applications

 

TS: Microsoft SharePoint 2010, Application Development

Foundation und Practitioner

 

PRINCE2®

(PRojects IN Controlled Environments) is a process-based approach for project management providing an easily tailored and scalable method for the management of all types of projects.

Professional Scrum Master I Badge
Privat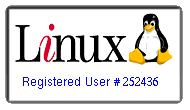 In meiner Freizeit erstelle ich Internetauftritte (Homepage der Schule, kommerzielle Seiten, private Auftritte) und programmiere in verschiedenen Sprachen (z.B. Python, PHP, Java, C#/C++/C, Delphi/Kylix, Basic, Perl) Anwendungen. Privat setzte ich Linux auf meinen Systemen ein, denn dieses Betriebssystem überzeugt durch Stabilität, Sicherheit und die Verfügbarkeit von Entwicklungswerkzeugen.
Mit Linux beschäftige ich mich seit Juni 1999. Ich habe mit der S.u.S.E.-Distribution begonnen, später (im Zeitalter erschwinglicher Flatrates) wechselten die Systeme zu Gentoo, Debian, Kubuntu und openSUSE.
Instant Messaging

Als IM-Protokoll empfehle ich Jabber. Infos finden Sie bei deshalbfrei.org (deutsch) und auf der offiziellen Internetseite (englisch).
Welches Betriebssystem bin ich?


Which OS are You?
Welche Dateiendung bin ich?

Which File Extension are You?
Nerd-Level